Health Programme Evaluation in Gansu - Macha Village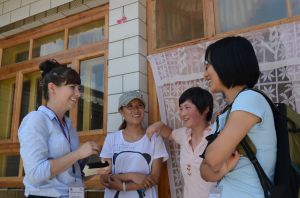 Between 31 July and 7 August 2013, a team of 12 returned to Gansu, Macha Village, to conduct an impact evaluation seven months after a village-wide health education intervention campaig, which focused on drought-preparedness and prevention of non-communicable diseases. This is the centre's third visit to Macha village. In addition to evaluating the impact of previously implemented health programmes, an additional goal was to test the feasibility and reliability of new health education protocols and assess the mental health resilience of the community with the facilitation of Dr. Elizabeth Newnham, CCOUC Regional Fellow.
Macha village is a classic example of how poverty-stricken rural communities adapt to, and cope with, water scarcity that severely reduce the quality of life of the population and causes major environmental degradation.
This evaluation trip marks the completion of the forth-studied site under the Ethnic Minority Health Project.