Professor Emily Ying Yang CHAN – 陈英凝教授
Centre Director 研究所所长
MBBS (HKU), BS (Johns Hopkins), SM PIH (Harvard), MD (CUHK), DFM (HKCFP), FFPH, FHKAM (Community Medicine), FHKCCM
CU50-The People Series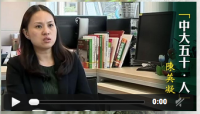 Professor Emily Chan was featured in "CU50-The People" series as part of The Chinese University of Hong Kong Golden Jubilee Celebration.
Professor Chan is a specialist in public health medicine and a Professor at the JC School of Public Health and Primary Care (JCSPHPC), Faculty of Medicine, Chinese University of Hong Kong. She concurrently holds the position as Assistant Dean (Development) at the Faculty of Medicine of The Chinese University of Hong Kong (CUHK), Associate Director (External Affairs and Collaboration) at CUHK JC School of Public Health and Primary Care, Director of the Collaborating Centre for Oxford University and CUHK for Disaster and Medical Humanitarian Response (CCOUC), Director of the Centre for Global Health (CGH) at CUHK Faculty of Medicine, Visiting Professor of Public Health Medicine at the Nuffield Department of Medicine, University of Oxford (link), Senior Fellow at Harvard T.H. Chan School of Public Health (link) and Honorary Professor at Li Ka Shing Faculty of Medicine, University of Hong Kong.
Prof Chan research interests include climate change and health, health and environmental co-benefits, disaster and humanitarian medicine, global and planetary health, violence and injury epidemiology, healthy settings, health needs and programme impact evaluation, evidence-based medical and public health interventions in resource deficit settings. She has published more than 200 international peer-reviewed academic/technical/conference articles and 7 of these appeared in The Lancet and Bulletin of the World Health Organization. She has accumulated HK $72.3 million worth of competitive research and program grants. She was awarded the 2007 Nobuo Maeda International Research Award of the American Public Health Association. Her disaster-related papers were used as policy references within WHO and National Emergency Response bureau of China National Health and the Family Planning Commission.
In addition to her regular clinical teachings, Prof Chan has mentored 7 PhD and 42 Master of Public health/MPhil students to date. Prof Chan is in charge of the professional technical specialist training programme between CUHK- HKSAR Government Department of Health (2011-2014), China National CDC (2013-2014) and National Emergency Response bureau of China National Health and the Family Planning Commission (2013-2015).
Her professional field-based academic and technical advisory experiences spans across 20 countries. Specifically, she currently runs the China Ethnic Minority Health Program (EMHP) which has trained more than 300 students/scholars from CUHK, HKU, University of Oxford and Harvard University. The field-based programme has outreached almost 6,600 households in more than 20 remote, disaster prone, resource deficit settings since 2009. Professor Chan has also established research and training projects in Bhutan and Nepal. Moreover, the international online course "Public Health Principles in Disaster and Medical Humanitarian Response" developed by her team to examine the application of public health principles in planning and responding to disaster and humanitarian crises has more than 6,000 students enrolled from six continents since its launch in May 2014.
Professor Chan has also established the CUHK-Non-Government Organization Fellows in 2009 and served as Co-Chair of World Health Organization Thematic Platform for Health Emergency & Disaster Risk Management Research Group (WHO H-EDRM Research Group) and a member of the Asia Science Technology and Academia Advisory Group of the United Nations Office for Disaster Risk Reduction (UNISDR ASTAAG). Moreover, she has been in technical advisory role for WHO-Headquarters and EMRO (emergency health risk management), MSF (President, MSF HK 2000-2005 and as MSF public health technical advisor since 2005), OXFAM-HK (Chairperson, Program and Advocacy committee since 2013), RTHK (Humanitarian Program Advisor since 2001) and Hong Kong Observatory (Scientific advisory member) as well as for 7 technical boards of health related NGOs in HK/China, Kingdom of Bhutan. She had won a number of teaching, research and community service awards. Among them, the CUHK Faculty of Medicine Teachers of the Year Award (2010, 2011, 2013, 2015), CUHK Best Interdisciplinary Award of Excellence in Social Engagement 2013, Hong Kong Ten Outstanding Young Persons Award 2004, Ten Outstanding Young Persons of the World Award 2005, World Medical Association's Caring Physicians of the World Award 2005, Hong Kong Humanity Award 2007, Leader of the Year Award 2015 of the Sing Tao News Corporation and University Grants Committee Teaching Award 2017.
Community engagements:
Since 2011 Chairperson of the Health and Sustainability Committee, WuZhiQiao (Bridge to China) Foundation
Since 2009 Board member of the Hong Kong Breast Cancer Foundation
Since 2009 Council member of Oxfam Hong Kong
Since 2005 Public health advisor of Médecins Sans Frontières Hong Kong
2001-2005 President of Médecins Sans Frontières Hong Kong
Awards:
2017 University Grants Committee Teaching Award
2016 National Geographic Chinese Explorer Award, National Geographic magazine
2016 Leader of the Year Award 2015 of the Sing Tao News Corporation
2010/2011/2013/2015/2016 CUHK JC School of Public Health and Primary Care Best Teacher Award
2007 Nobuo Maeda International Research Award of the American Public Health Association
2007 Hong Kong Humanity Award – Link
2005 World Medical Association's Caring Physician of the World
2005 Ten Outstanding Young Persons of the World Award – Link
2004 Hong Kong Ten Outstanding Young Persons Award – Link
Selected media coverage:
2018 Living in the heat of the moment. China Daily.
2017 Human frontiers: How much heat can the body and mind take? – Reuters
2017 In India, slight rise in temperatures is tied to heat wave deaths – New York Times
2017 Climate Watcher: The health impact of global warming – Radio Television Hong Kong
2017 86,000 Hongkongers get minor injuries from domestic animals every year, study shows – South China Morning Post
2016 Why Hong Kong students' volunteering may do more harm than good – South China Morning Post
2016 "Good seeds , good deeds" – A CUHK scholar bustles in humanitarian reliefs – QS Asia
2016 Health experts train local communities to prepare for disasters – Reuters
2016 Young Hongkongers lagging the old in adapting to green lifestyle – South China Morning Post
2015 Hong Kong people not ready to deal with natural disasters, experts say – South China Morning Post
2015 "Hong Kong Today" --Workshop on reducing disaster risks – Radio Television Hong Kong
2014 Let the dream continue: Emily Chan – VJ Media
2014 Emily Chan: The Hand of Rescue – Jessica
2014 Fund raising for Médecins Sans Frontières (MSF) – Commercial Radio Hong Kong
2014 Physician in Humanitarian Response – Hong Kong Economic Times
2014 Disaster research and emergency response in mainland China – Radio Television Hong Kong
2014 Spend 30 RMB on Taobao to enhance disaster preparedness in rural China – Ming Po
2014 HKD40 Kit Bag that makes difference of life or death – South China Morning Post
2014 Professor Emily Chan's "can-do" attitude – Hong Kong Apple Daily
2013 What is humanitarian response – Radio Television Hong Kong
2013 Living condition of population displaced by the Sichuan Ya'an Earthquake – Wenweipo News
2013 Substandard Earthquake relief: Donations needed for long-term recovery post Ya'an Earthquake – Hong Kong Apple Daily
2012 Why Poverty? – Radio Television Hong Kong
2012 Under the Fiery Sun – PCCW NowTV
2012 Weekend Broadcasting Studio – Television Broadcasts Limited
Multi media:
2018 Oxford Academic (Oxford University Press) – Women in STM with Professor Emily Ying Yang Chan
2017 CUHK – University Education Award
2013 CUHK Golden Jubilee "CU50-The People" Video Series – Emily Chan, Humanitarian Relief
2013 Nuffield Department of Medicine of Oxford University International Podcast Series – CCOUC