Order Request
Digital Version
Global Public Health Learning and Teaching Series consist of four main themes of the Protection domain under the Health Policy Framework as identified by the Commonwealth Secretariat, namely emergency preparedness, climate change & sustainability, environmental health, and communicable disease control. Teachers of different subjects can incorporate the topics of Global Public Health into their diverse curricula to facilitate their preparation of teaching relevant topics.
Please click to select and fill in the following order form(s) to download the required digital booklet.
1. Relationship between Disasters and
Public Health from a Hong Kong Perspective

2. Globalisation - Climate Change and
Human Health

3. Urban Threat of Infectious Diseases

4. Environmental Health Hazards and Public Health Responses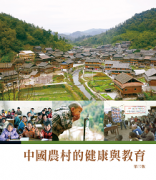 To enhance the understanding of the issues around contemporary healthcare system and rural health in China among secondary school teachers and students, "Health and Education in Rural China" sums up a few key health issues that villagers in rural China are facing nowadays.
Printed Version
If teachers would like to order free printed copies of Global Public Health Learning and Teaching Series and Health and Education in Rural as references or teaching materials, please download the order form here and email it to ccouc@cuhk.edu.hk or fax it to 2647 6547. For inquiry, please feel free to contact us at 2252 8850.